Ibiza Stag Party
Are you ready to party until you drop? For the ultimate stag party, head to the party island of Ibiza in the Balearic Islands where you will be surrounded by turquoise coloured crystal clear sea, bright blue sky and 24/7 celebrations. You're guaranteed sun, sea and sangria and it's no doubt that it will be an excellent stag weekend and an unforgettable experience.

San Antonio and Playa d'en Bossa are the main towns that showcase a variety of venues for a crazy nightlife with bars and clubs spilling over the streets every night. Clubs presenting the World's most famous DJ's have the likes of Fatboy Slim, Jonathan Ulysses and David Guetta on their books most seasons. Lounges, strip clubs, bars and chill out beach venues make Ibiza a beautiful island with a cocoon of lively party animals in a place that rarely sleeps!

An Ibiza stag party is the best choice to properly celebrate your last days of freedom with your friends. Not only will you be busy partying at night, but there is a huge amount of activities that you can try your hand at, including go-karting, paintballing and quad biking. If you fancy something a little more relaxing but are still in the party mood, book your tickets for the Ibiza party boat and sit in the sun or dance your socks off, while you sip a cold beer and cruise the Mediterranean.

Playa d'en Bossa
The Ibiza nightlife is an experience you will never forget! Playa d'en Bossa is home to legendary clubs Bora Bora and Space and one of the most popular destinations with the longest beach on the island. Bars and nightclubs are dotted around the resort giving plenty of choice in venues, including some cool chill out bars on the beach such as Sands and the Beach House, where you can laze around during the day and catch some rays while you rehydrate. Club DC10 is just one of Ibiza's notorious venues, dedicating it's play list to amazing underground electronic music, with regular after hour parties, fancy dress and silly games. Playa d'en Bossa is an excellent resort if you want plenty of choice in nightlife and an amazing beach to relax on during the day.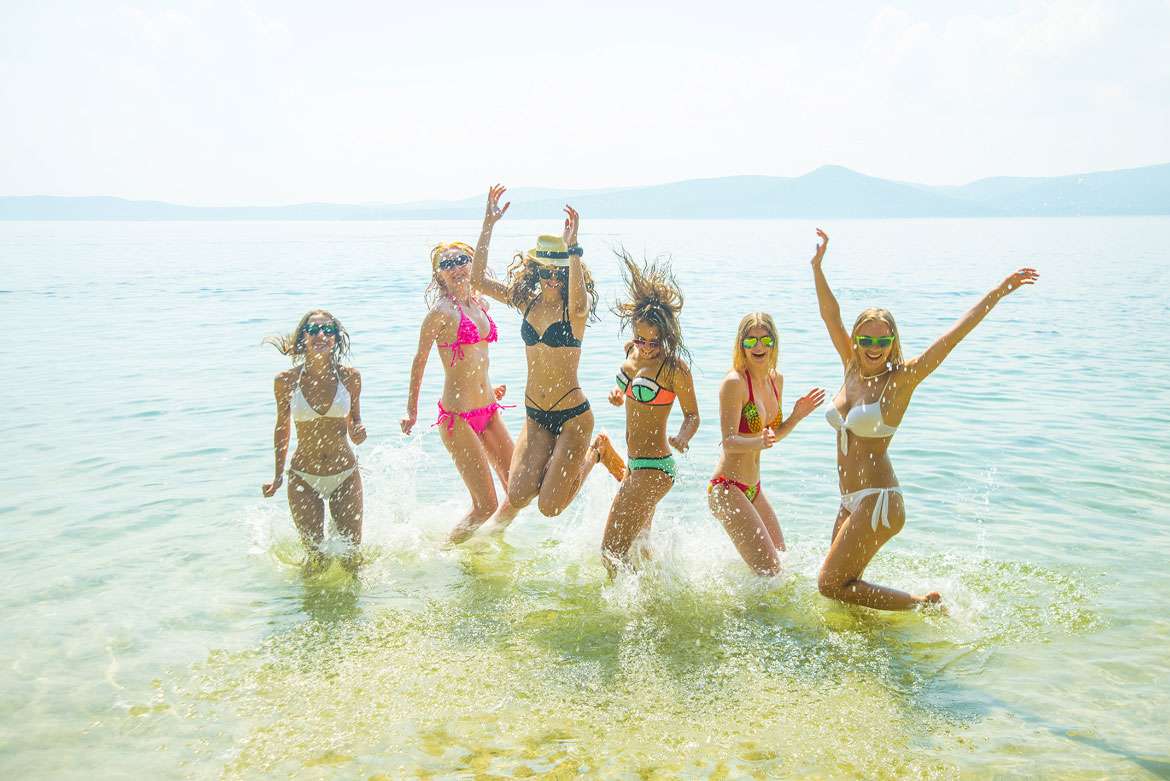 San Antonio
One of the most popular resorts and the second largest town in Ibiza is San Antonio, situated in a beautiful natural bay on the west coast of the island. Offering various accommodation from 5* hotels to budget self-catering for groups, the town caters for everyone. At night, it is a neon vision of flashing lights and booming music, providing a huge range of choice in bars, nightclubs, strip clubs, restaurants, cafes and chill out lounges. Es Paradis and Eden are popular local nightclubs, with Ibiza Rocks Hotel perhaps being one of the biggest events in Ibiza, where well-known DJ's, musicians and bands such as Ed Sheeran, The Prodigy and Arctic Monkeys have hit the stage.

Most people who go to Ibiza are there to party and it is renowned for being a clubbers paradise and an island that never sleeps in the most beautiful Mediterranean setting of perfect blue sea and sky. The Ibiza stag party will certainly be an unforgettable experience and one that you and your mates will remember forever.